Advantages of Roll crusher Compared with Home and Foreign Similar Products
Date: Dec 16,2013
The roll crusher is suitable for crushing medium harness materials like limestone, furnace slag, coke, coal and so on in such industries as cement, chemistry, electric power, metallurgy, building materials, refractory materials and other industrial sectors, which is featured with high efficiency, long lifespan, full seal, low noise, even discharging granularity and so on. Here, Hongxing Machinery, one of the famous crushing equipment manufacturers, will analyze the advantages of roller crushers compared with domestic and foreign similar products.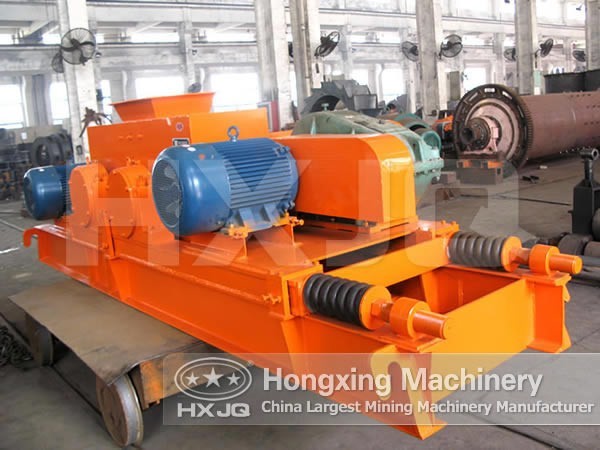 1.It is equipped with dual function of screening and crushing.
2.The two teeth rollers operate in the ways of non-round, non-engaging and non-constant speed, which greatly increases the shear crushing effect of mineral materials and reduces the choking phenomenon existing in domestic and foreign roller crushers.
3.It adopts double overload protection.
4.It is of flexible assembly and easy maintenance.
5.It features with reasonable structure and long lifespan. The hardness of crusher rollers is very high, which is wear-resistant.
The roll crusher principle is to use the friction of roller surface to bite the materials to crushing area and then to be crushed by extrusion or splitting effect. According to the number of rollers, the types of double roll crusher are single roller crusher, double rollers crusher and multiple rollers crusher. The uses of teeth roll crusher are very wide, for example, it can be broadly used in mine, metallurgy, refractory materials, cement, coal, glass, ceramic, electric power and so on.
At present, some customers prefer to buy used roll crusher for its lower prices. However, the used roll crusher has shorter service life compared with new machines. Here, Hongxing Machinery suggests you to buy new mining equipment, because new mining machines are long in lifespan, excellent in performance and easy in maintenance. We are one of the professional rock crusher manufacturers which provide the equipment to crushing iron ore process with the highest quality. Welcome all of you to visit our company and we will not let you down.