Notes in Feeding and Discharging Processes of Cone Crusher
Date: Mar 19,2014
In recent years, with the gradually in-depth development of economy and infrastructure construction, mining machinery industry ushers in the prime time of development. Among so much mining machinery equipment, cone crusher develops most rapidly. Combined with international advanced technology, cone crusher has completely gets rid of the disadvantages of low production efficiency, high energy consumption and insufficient resource utilization. Of course, cone crushers produced by some backward small workshops are excepted. When operating cone crusher, we should pay attention to feeding and discharging processed.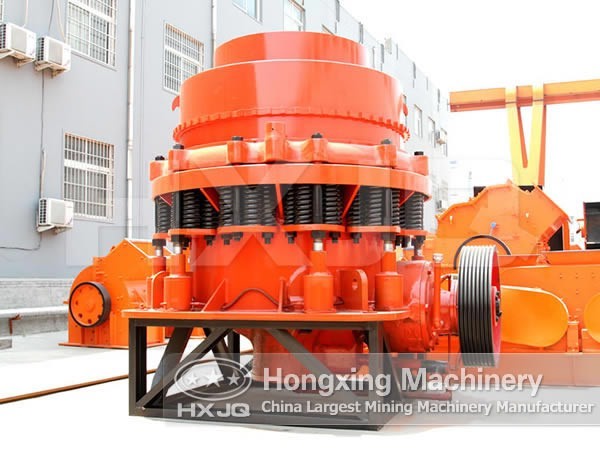 1. Feeding of cone crusher
1). The materials to be crushed must accord with specified range of cone crusher. Moisture content of materials should not exceed 15% so as to prevent clogging feed inlet or pasting machine.
2). Material feeding should be evenly and orderly in order to improve crushing effect and working environment.
3). When feeding materials, carefully check if there are metal materials inside the machine, thus protecting the bearing and parts.
2. Discharging of Cone Crusher
1). To ensure the discharge opening is unblocked so as to prevent serious overload of equipment caused by blocked discharging.
2). Regularly check the discharging conditions. Once you find the discharging granularity of finished products doesn't confirm to requirements, timely solve it. What's more, you should also inspect abrasion condition of hammerhead and lining board and tensioning situation of V belt, thus using specific methods to solve the problems found in operating process of cone crusher.
The mining machinery equipment manufacturer must tap and constantly satisfy market demand, thus realizing long-term and stable development. Cone crusher has advanced technology and complete functions compared with other mining machinery equipment, which is well received by various customers. In mining economy, cone crusher must constantly innovate and change, thus promoting development of mining machinery industry. Stagnation will only be eliminated by the market.